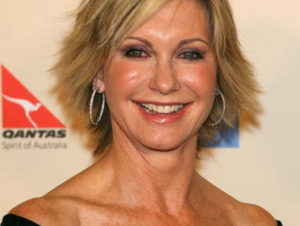 It may be hard to believe that the 1974 British Eurovision Song Contest representative has hit the big 60, but it's true.  The English-born songstress has had a long and illustrious career and now commits most of her time to fundraising for cancer research.
It's nearly 35 years since Olivia Newton-John took to the stage to represent the UK at the 1974 Eurovision Song Contest and a lot has happened in her career since then.  After her fourth place finish in Brighton that year she began to concentrate on country music and tailored her following albums for release to the large American Country Music market.  She had quite some succes in this venture but by towards the latter end of the seventies her following began to wane.
It's well known to most that Newton-John is most famous for her role in the 1978 film "Grease" and this was what lifted her from the doldrums of chart failure.  After the film's release she returned to the top of the charts with hit after hit, but this time her music was more pop orientated.
While still presenting some shows for PBS (Australian Broadcaster) and committing herself to other small projects she now focusses on her cancer research fundraising and has been awarded with several honours for her work in that regard.
Interestingly enough, Olivia Newton-John is not the only Eurovision artist celebrating her birthday today.  Micha Marah, who represented Belgium in 1979, sets out on her fifty-fifth year and Lenna Kuurmaa (Estonia 2005, member of Suntribe) is the youngest of the three at only 23.
EuroVisionary would like to wish all three ladies a happy birthday and many, many more.