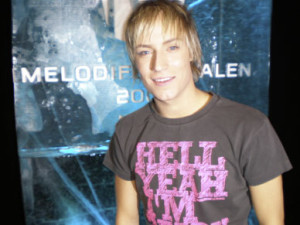 He reached the second chance round in the 2008 Melodifestival selection, but was then kicked out. Afterwards he had success on the charts and now Ola is nominated for Rockbjörnen in four categories, including best male Swedish singer.
Ola became famous when he won the Swedish Idol competition in 2005. This year he took part in the Swedish Eurovision Song Contest selection, Melodifestivalen, for the first time. Love In Stereo made it to the Second chance round where it lost to Sibel's That Is Where I'll Go. That however didn't stop Ola who featured success with his album Good Enough and is now nominated for Rockbjörnen in four categories.
Rockbjörnen is the Swedish music prize from the population. It is not based on sale or charts placements, but on simple votes. Up until the 11th of January people can vote for the five nominated in all 13 categories. Ola is nominated as best Swedish male artist, as best live act, for best Swedish song with Feel Good and for best Swedish album with Good Enough.
The winners will be presented in Stockholm on the 22nd of January 2009.
On Aftonbladet's website you can see the other nominated artists and vote for who you think deserve the prize.
Links