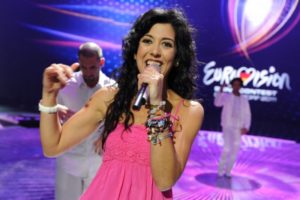 Next up after Blue were Spain and the vivacious Lucía Pérez – would she be able to recreate her bubbly, joyful act on the decidedly bigger stage in the Esprit Arena? Eurovisionary tagged along to find out…
Lucía is flanked by 3 female backing singers and 2 male dancers. The dancers are dressed in white shirts and trousers, later on on their act they pick up trilbys from the floor which have red neon stripes over the top of them. The backing singers are dressed in plain white thigh length dresses. Lucía is presumably not in her stage outfit for the big night, as there were two dress alternatives that were held up tp the camera for light tests, both in fuschia pink. The more fetching one was what looks like a thigh length pink silk creation with embroidered bottom half.
The setting of the stage was simple yet visually entertaining. A blue backdrop depicts flowers superimposed over fiery colours – the main blue colour then shifts to yellow as the song progresses. It ends with an explosion of fireworks on screen. The stage is lit up by yellow strips from below, with red and yellow beams from above picking up on the colours in the spanish flag.
The song itself comes across as a sunny, joyful affair with infectious samba rhythms that should hopefully coax the viewer into putting on their party shoes. The dancers skip around the stage making good use of the floor; at one point it looks as if they're about to burst into a rendition of the Haba Haba dance. Lucía clearly enjoys herself and comes across as very bubbly and vivacious with a good performance that carried well across the hall. She did however sound a little croaky in places. An enthusiastic spanish contingent in the hall calling out "guapa/cutie" to her, prompted her to giggle. She appeared a little breathless at the end of the song.
In my view
This is by many regarded as the weaker of the songs from the Big 5, I don't personally agree and was bowled over by her charm – I'd place Italy as the weakest of the 5 songs. As much as it is charming, I can't really see it making much of an impact though, which is a great shame as Lucía has seemingly boundless enthusiasm.

The opinion expressed in "In my view" are those of the author and are not necessarily the one of EuroVisionary.com.