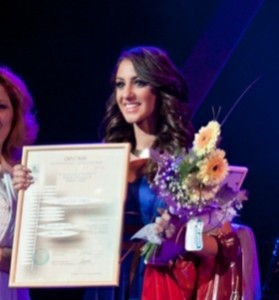 Nicole Azzopardi has returned to Malta gaining outstanding success at the Yerevan Is Calling music festival in Armenia.  Nicole won two trophies and three diplomas at the festival held over eight days in Yerevan. 

Nicole, former Malta Junior Eurovision representative, won the Best Armenian Song Performance and also the First Runner Up of the Best Armenian Song.  Nicole was also presented with three diplomas for her achievements.
The overall Grand Prix winner of the competition was Hila ben David who has taken part in the Israel Kdam festival for Eurovision in 2010.
Eighteen acts took part in this first festival of Yerevan Is Calling which is aimed to promote Armenian culture around the world.  Acts included Evelina Sašenko from Lithuania, who represented her country at the 2011 Eurovision Song Contest and also Karolina Szczepanik, X Factor finalist from Poland and also Alisher Karimov from Kazahkstan, who was gold prize winner at Hollywood World Championship of Performing Arts.
You can see Nicole perform at the festival below.