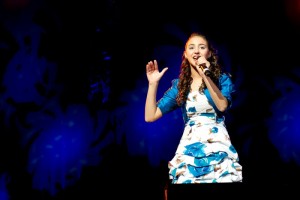 Last year's Maltese Junior Eurovision singer, Nicole Azzopardi, has just returned from a successful participation in the Tahtede Laul (Star Song) Festival in Estonia.  Nicole also met Dave Benton, part of the winning team for Estonia at the 2002 Eurovision Song Contest.
The festival was held between 14 and 16 April in Tallinn.  On the first day Nicole launched her new single, My Heart Beats For Love.  She was very well received by the audience and also the director of the event, Varje Lepp.  At the end of the show Nicole was asked to sing again and she performed her 2010 Junior Eurovision song, Knock Knock!…Boom! Boom!
On the 2nd day Nicole took part in a show at the Estonian National Library.  Amongst the guests was Dave Benton, who was part of the winning Eurovision song act of 2001 with Tanel Padar with the song Everybody.
On the final day Nicole performed in 2 shows.  In the afternoon she sang 6 of her songs including another brand new song, Say Hi!  She later performed in a Gala Night at the Nokia Concert Hall.
This was the 12th year of the Tahtede Laul (Star Song) Festival.  This year it was incorporated in to the celebrations of Tallinn being the European Capital of Culture.