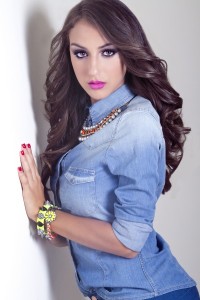 Nicole Azzopardi will take part in the Yerevan is Calling international song contest in Armenia between 6th and 14th October.  The former Maltese Junior Eurovision participant will participate amongst many international performers including Evelina Sašenko, who represented Lithuania at the 2011 Eurovision Song Contest.
Nicole has come a long way since representing Malta at the 2010 Junior Eurovision Song Contest in Minsk, Belarus with Knock Knock!….Boom! Boom! She has recorded several songs including My Heart Beats For Love and Simply Hi! and participated in international festivals such as the Tähtede Laul International Children and Youth Song Festival in Estonia.
She is also having great success as an actress in the popular Maltese TV musical teen drama, D.R.E.A.M.S. 
Nicole returns to the music scene by participating in the Yerevan is Calling festival in Armenia.  The purpose of the festival is to promote Armenian culture and develop international relations.  Seventeen countries will take part in the first edition of this contest.
The contest is divided in to three different categories and will last over four days.  In the first evening the contestants will perform a song from their own country.  The second evening will involve performances of an international song and finally the third day they will perform an Armenian song.
EuroVisionary will bring you more news as soon as we have it.  In the meantime for more news about Nicole you can visit her  official website.