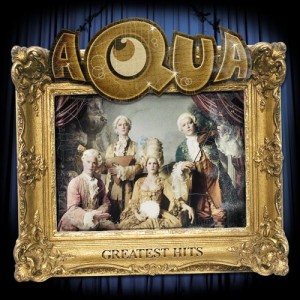 The Danish group Aqua is back with a greatest hits album that includes three new songs. The first single is already now a chart success in Denmark. It is the first new song from Aqua, who was interval act at the 2001 Eurovision Song Contest, in nine years.
Aqua is the most successful Danish band ever with nearly 30 million sold records worldwide. The band consisting of Lene Nystrøm, René Dif, Claus Norréen and Søren Rasted was founded in 1994. They split up in 2001 after big success with songs like Barbie Girl, Doctor Jones, Roses Are Red, Cartoon Heroes and Around The World. Together with Safri Duo they were interval act at the Eurovision Song Contest in 2001 held in Copenhagen.
After an absent of eight years Aqua is now back together again. It all started last summer with some summer concerts, but it isn't until now the first new single in nine years has been released. The single Back to the 80's went straight to the top on the Danish chart and will be followed by an album next week. The album called Greatest Hits features 19 songs; 16 of them being their biggest hits and three new songs. Included with the album is also a book with lyrics for all the songs.
Complete tracklist:
1: Back to the 80s (New song)
2: My Mamma Said (New song)
3: Live Fast – Die Young (New song)
4: Happy Boys & Girls
5: Barbie Girl (Album Version)
6: Around the World
7: Doctor Jones
8: Aquarius
9: Cuba Libre
10: Lollipop (Candyman)
11: Cartoon Heroes
12: Be A Man
13: My Oh My
14: Freaky Friday
15: We Belong to the Sea
16: Roses Are Red (Original Version)
17: Halloween
18: Turn Back Time
19: Goodbye to the Circus (Album Version)

Below you can hear the new song Back To The 80's and see the video for their biggest hit Barbie Girl.