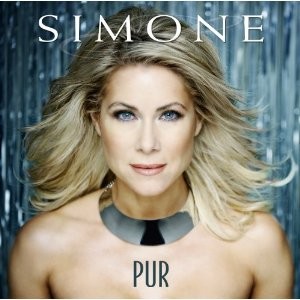 Simone is back. The one time Austrian entrant, who gave such a glamourous, rousing performance of her entry Keine Mauern Mehr in Zagreb is back with a brand new album and it she hardly seems to have aged a day!
Simone, or Simone Stelzer as she is actually called, burst onto the stage in 1990 with the anthemic Keine Mauern Mehr, bringing Austria a highly respectable tenth place at the Eurovision Song Contest in Zagreb. She attempted to enter Eurovision once again four years later with the song Radio, but failed to win the ticket to Dublin and ended up fourth. Since her debut album in 1990, Feuer im Vulkan (Fire in the Volcano), the vocalist has actually remained pretty active, releasing 10 albums with the last release, Mondblind appearing in 2010.
But fans need wait no longer, the glamourpuss from Austria is back and her brand new album is due for release on the 20th of July. The album will be called Pur (Pure) and most, if not all tracks are written, composed and produced by David Brandes, a familiar name for some as he was the man behind two entries in  2005, the Swiss entry Cool Vibes by Vanilla Ninja and Run And Hide by Gracia for Germany.
The artist is clearly proud of the result telling that fans are in for a treat, with a great album on the way containing many varied tracks. The song Wenn Du Gehst (When You Leave) has been selected as the lead single which is already receiving airplay in her native Austria. You can listen to the track on her website. The album Pur will be released on the Ariola/Sony Music label, although a track listing has not been published yet. Simone is also offering fans the chance to order personally autographed CD albums from her back catalogue on her fan website.
She is currently doing some promotion work prior to the release of Pur, with appearances around Austria : Wieselburg (29.06), Chemnitz Küchwaldwiese (01.07), Mörbisch (17-18.07), Südtirol (19.07) as well as an appearance on national TV (ZDF/ORF) on the 20th of July.
Welcome back Simone, we hope your new album has been worth the wait!
Links