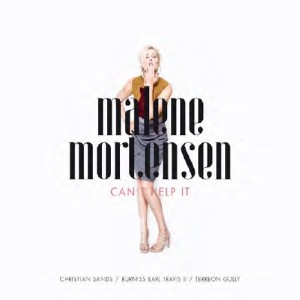 Malene Mortensen who represented Denmark at the Eurovision Song Contest in 2002 has just released her eigth album. The latest is titled Can't Help It, and has been recorded in New York in collaboration with well known American jazz musician Christian Sands.
It is nearly 13 years ago since she represented Denmark at the Eurovision Song Contest with the song Tell Me Who You Are, which receieved only seven points, and ended last. A lot has happened for Malene Mortensen since then. Gone is the young and insecure girl we saw on stage that night. She has been replaced by a mature jazz performer, who knows herself and her strengths. 
The 8th album from Malena which was released today, the 19th of January 2015, is titled Can't Help It. It is recorded in Systems 3 Studio in Brooklyn, New York and it is the first time Malene records outside Scandinavia. The album is recorded with Christian Sands, Burniss Earl Travis II, Terreon Gully and Paul Banks as musicians. In partular Christian Sands will be a well known name to many jazz lovers. They met during Copenhagen Jazz Festival in 2013.
Can't Help It features 10 tracks. Most written by Malene and Sands, but there are also tracks by Paul Banks and Stevie Wonder.
Malene is also working as a Church singer and from time to time she sings with a pop cover band. She is also thinking about taking a masseur education. As she puts it to newspaper BT, "I need some more economical stability. The word stability came into my life when I turned 30 😉"
Track list:  
Honeysuckle Rose 
Alone Together-sweet Solitude 
Alfie 
Can't Help It 
Every Day 
The Rest of Mine 
The Heat and Flames 
Beneath the Endless Blue 
My Favorite Things 
Summer Haze
You might also like to read:
Olsen Brothers and Anne Herdorf on tour together