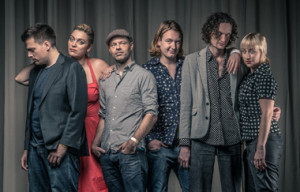 Since she represented the Netherlands at the 2001 Eurovision Song Contest Michelle has changed music style. Out On My Own has been replaced with a significantly more rocky attitude. With her band EinsteinBarbie she is now nominated for the prestigious Grote Prijs van Nederland. 
Michelle Courtens won the Dutch national final extremely convincingly in 2001 with 30 points more than the runner up, but Europe didn't quite see the same potential in the song Out On My Own. At the Eurovision Song Contest held in Copenhagen, Denmark she only received a total of 16 points finishing 5th to last.
She is now working with the band EinsteinBarbie, where she show off her skills in quite a different music genre. The group released their single Petty Cash earlier this year and has been nominated for the Grote Prijs van Nederland. This is a prestigious award given out each year since 1983 to the best new talents in Dutch music. Awards will be given out in three different categories: Bands, Singer-songwriter and Hip-hop in a competition layout. So-called regional quarterfinals and semi-finals have already been held in order to have only the best ones standing in the final. Six bands are now left with the chance to win the award, the prize money and the chance to kick off their career. 
EinsteinBarbie has together with 5 other bands made it to the final that will be held in Melkweg, Amsterdam on the 8th of December. The winner will be chosen by an expert jury and receives 5000 euros, a video clip, studio time, professionnel coaching and of course a trophy. On the final night the audience will also be voting and the band that wins the so-called audience prize receives 1000 euros.
Below you can see the official video for EinsteinBarbie's Petty Cash: