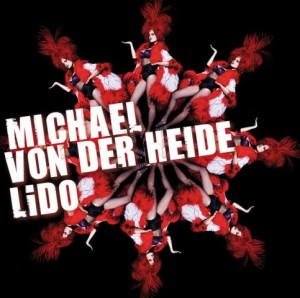 Multilingual former Swiss representative Michael Von Der Heide is perhaps one of the most versatile artists to emerge from the alpine nation. Following his humiliation at the 2010 Eurovision Song Contest with Il Pleut De L'Or, the singer was apparently left devastated. Silence followed. A long silence, but now he's back!
For the first time, the creative artist presents an entire album in French. Whereas his previous Eurovision entry was quite typically Eurovision in style, his latest offering shows a departure from that particular image and sees Michael Von Der Heide take the pluge into the genres of electro-pop and dance. The album is described as a blend of romantic, brooding, inspiring and atmosperic music, featuring 14 brand new tracks.
The list of producers behind is album is most impressive, a veritable who's who of names in the entertainment industry, with Ben Mühlethaler at the helm of the project. Lido is mixed by Ren Swan (having previously worked with the likes of The Pet Shop Boys and Kylie Minogue) and the recordings have been mastered by mutli Grammy award nominee Mandy Parnell. Von Der Heide has also collaborated with various other figures of the music industry in the making of his new album, with amongst others Adrian Stern, Doriand and DJ Antoine.
Lido is due for release in Switzerland today. The first single to be lifted from the album will be J'ai Perdu Ma Jeunesse (I've Lost My Youth), a danceable accordion led torch sing in true diva style. His latest single is described as a "gorgeous number" packed with radio airplay potential and is already being picked up by numerous radio stations and will soon be available for download through iTunes.
The track listing of Lido is as follows:
J'ai Perdu Ma Jeunesse (I've Lost My Youth)
Reste (stay)
Jumelles Cruelles (Cruel Twins)
Bleu Infini (Endless Blue)
Nuit Dehors (Nighttime Outside)
Relax
Je T'Aime (I Love You)
Rien Ne Va Plus (Nothing Works Anymore)
Lido
Dans La Vie Endormie (In A Sleeping Life)
Quand Je Serai Mort (When I'm Dead)
Wake Me Up When I'm Happy
Sans Souci (Carefree)
Je Ne Sers A Rien (I'm No Good For Anything)