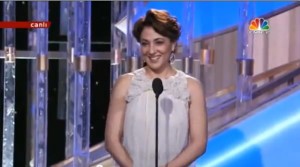 One of the Turkish host from Eurovision Song Contest in 2004, Meltem Cumbul, suprisingly appeared on international 69th Golden Globe Awards which was held in Los Angeles, the United States Sunday night. Meltem was presented as Turkish delight.
In the motherland, Turkey, Meltem Cumbul is mostly known as an actress and presenter who also recorded some music videos. Meltem's first ever music video was a cover of British Imaani's Eurovision Song Contest act from 1998, Where Are You Now? . Later in 2004 she presented both the Eurovision Song Contest's semifinal and final in İstanbul with her collegue, Korhan Abay.
Sunday night, Meltem appeared as the first ever Turkish actress in the famous Golden Globe Awards' 69th edition which was held in Los Angeles, the United States. She is also the first ever presenter in the history of the Eurovision Song Contest, who were appearing in Golden Globe. Before the ceremonies, Meltem was supposed to present the Best Foreign Movie Award to its winner but with the change of plan, she was presented to the audience where she was honoured with her speech.
Meltem, at her speech, told the audience: 'Hello, good evening! Herkese iyi geceler! The Golden Globes is seen in 199 countries around the world, also in my home country of Turkey. I grow up watching the show and am honoured to be with all of you tonight.' Then she ended her speech telling a quote from founder of her homeland, M. K. Atatürk, 'Peace at home, peace in the world'.
After Meltem's presentation in Golden Globe Awards, she made it to the cover of Los Angeles Times Monday. The Turkish delight was questioned with her presentation as an European woman, who isn't known well in the United States but their words ended with the number of awards she gained in numerous shows. At the same time, she made it to the worldwide Trend Topics list on the social media, Twitter.
Below you can watch the presentation of Meltem Cumbul in Golden Globe Awards Sunday. You can also hear her first ever music video where she covered Imaani's 1998 Eurovision Song Contest act Where Are You Now?.