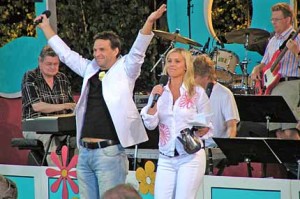 Just because Melodifestivalen and Eurovision Song Contest is over for this year it doesn't mean that there is nothing to do. On Tuesday the 29th of June the Swedish TV programme Allsång på Skansen premieres with stars as Carola and Anna Bergendahl. And as usual you will find several other artists from Melodifestivalen in the programs to follow .
Allsång på skansen is one of Sweden's most popular Tv- shows and had approximately 1,5 -2 million viewer's per week last year. This year all of the fans of Melodifestivalen will be gathered in front of the TV. There will be something for everybody, as both The Ark, Anna Bergendahl and Carola will participate on 29th of June which is the first program for this season.

It will be a mixture of experienced artists and debutant's. Do you remember Lill Lindfors? She participated in Melodifestivalen together with Svante Thuresson in 1966 with the song "Nygammal vals". They also represented Sweden in Eurovision Song Contest that year. Lill Lindfors was also the host of Eurovision Song Contest 1985, she was the one who dropped the skirt on stage.

Among the debutant's you can find Timoteij, the four girls from the semi final in Gothenburg that were favourites to win Melodifestivalen this year. You will also see Eric Saade, participant from 2010 and also the one that announced the result of the Swedish votes in Eurovision Song Contest in Oslo.
Full program for Allsång på Skansen 2010 will follow below:
 
Program 1: Tuesday 29 June
The Ark
The MozART Group
Anna Bergendahl
Robert Broberg
Carola
Program 2: Tuesday 6 July
The Playtones
Marie Kühler
Eric Saade
Marie Bergman
Mikael Wiehe
The Ten Tenors
Wille Craaford and Marika Willstedt
Program 3: Tuesday 13 July
Cotton Eye Joe Show
Darin
Timoteij
Movits
Olivia Stevens
Kikki Danielsson
Program 4: Tuesday 20 July
Salem Al Fakir
Gunhild Carling
Drängarna
The Real Group
Thomas Di Leva
Oskar Linnros
Program 5: Tuesday 27 July
Mando Diao
Jonas Gardell
Christer Sjögren and Thorsten Flinck
Jasmine Kara
Lill Lindfors
Idolerna
Program 6: Tuesday 3 August
The Baseballs
Huutajat
Jakob Hellman
Kjerstin Dellert
Gösta Linderholm
Program 7: Tuesday 10 August
Jerry Williams
Ola Forssmed
Tove Styrke
Orup
Hanna Lindblad
Charolotte Perrelli and Magnus Carlsson
Program 8: Tuesday 17 August
Sveriges Radios Symfoniorkester
Måns Zelmerlöw and Lisette Pagler
Sarah Dawn Finer, Fredrik Lycke and Jocke Bergström