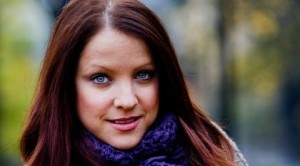 Swedish singer Shirley Clamp has participated in Melodifestivalen several times over the years. On Tuesday, she gave birth to a little baby girl.
Shirley is no stranger to Melodifestivalen and Eurovision Song Contest since she has participated both as a songwriter, as a backing singer and as a solo artist. In 2001, she was the backing singer for Greek/Swedish group Antique, who participated in the competition for Greece with the song (I would) Die for you. Since then she has participated in Melodifestivalen three times, 2003 with the song Mr Memory, 2004 with the song Min kärlek and finally in 2005 with the song Att älska dig.
In January 2008, Shirley announced that she and her partner, Daniel Ottosson, was expecting a baby, which was due mid July. The delivery was planned for Wednesday the 16th of July but the little girl was eager to meet her parents and arrived a day early. Despite the early delivery, all went well and both Daniel and Shirley are extremely happy. The baby girl was 53 cm long and weighed 4100 grams. On her website, Shirley announces that she will take some time off for at least two months. After that she will continue to record a Christmas album together with Sonja Aldén and Sanna Nielsen. The album will be released on the 18th of November. Then their own Christmas show is premièreing at Ladan in Båstad at the 21st of November.
For more information about Shirley Clamp, please visit her website, the link can be found below.
Links