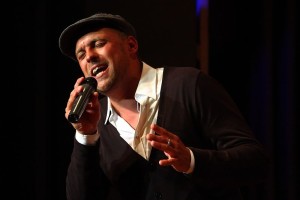 Max Mutzke is back with his fourth studio album called Durch einander. It will be released on September 14th and is supposed to be a jazz album. Rembering Max's performance at the Eurovision Song Contest 2004 it might be no surprise, but it still a big dream coming true for him.
On September 14th Max Mutzke will release his new album Durch einander. It will be the fourth studio album for the 31-year-old German singer. It was already reported that it will be a jazz album containing a total number of 17 songs. Some of them are written by Max himself. Furthermore the CD will feature cover versions like Empire state of mind or Me and Mrs Jones. In addition there are several well-known German artists as guest stars, for example Thomas D., member of the German hiphop band Die Fantastischen Vier and jury president of this year's German national final Unser Star für Baku, the popular German singer Cassandra Steen and a lot more.
Max Mutzke represented Germany at the Eurovision Song Contest 2004 in Istanbul with Can't wait until tonight and achieved a respectable 8th position. When he was chosen as the German representative he was an absolute newcomer. He took part in a casting show by Stefan Raab called SSDSGPS (Stefan sucht den Super Grand Prix Star / Stefan seeks the super Grand Prix star). After winning the show he was allowed to take part in the German final which was a coproduction between the German channel ARD and the private music channel VIVA and featured several well-known artists such as Scooter, Patrick Nuo, Wonderwall or Mia. At the end Max Mutzke scored an overwhelming victory receiving a total number of 92,05% of the German televotes.