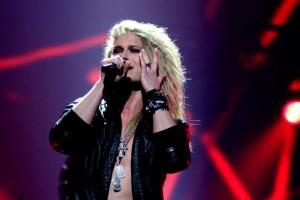 Slovakia made some changes to the performance today as Max Jason Mai took to the stage for his second rehearsal. 
Max Mason Mai began his performance with just the spotlight on him.  Then the song explodes in to a heavy rock song.  The lights are really flashing and the stage is bursting with energy with Max and his band. 
The significant change in this second rehearsal is that Max is making more use of the stage. In the first rehearsal there was not a lot of movement by Max.  Now Max is running around the stage and this fits to the style and energy of the rock song.  He also makes use of both of the catwalks.
The band are all wearing black leather during this performance.
So, the question remains – Is Europe ready to rock with Slovakia to the final?