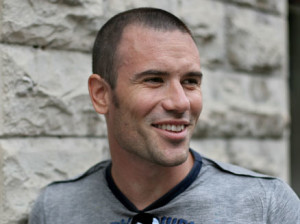 Former Melodifestivalen participant, Martin Stenmarck, is climbing the Swedish charts with his new single "A Million Candles Burning". The song came to life through a unique partnership between Martin Stenmarck and Scandic Hotels.
Since his participation in Melodifestivalen and the Eurovision Song Contest in 2005 (with the song "Las Vegas"), Martin Stenmarck has released three albums and taken part in the show "Ladies Night". All of the albums are in Swedish and several of the singles have been major hits in Sweden. "7 mila kliv", "Hand i hand" and "100 år från nu", just to mention a few.
Now he is climbing the Swedish charts with the song "A Million Candles Burning" (this week he is in 6th place). All of the proceeds will go to a new fund called "Scandic Sustainability fund". From that fund, Scandic Hotels is going to award individuals or organisations that are working to make the world more sustainable.
There are three versions of the song and you can download it for free, or buy a digital copy of it from Scandic Hotels website. You can also get the single in one of Scandics hotels.
For more information, please visit Scandic hotels website by following the link below
Links