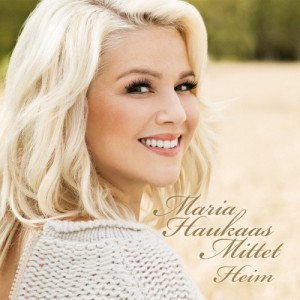 Maria Haukaas, now with the last name, Mittet, released a new album a few days ago. The album is titled Heim, which means home, and for Maria that title is very appropriate. She has been working on the album for three years, and it is entirely in Norwegian. 
At the 2008 Eurovision Song Contest Norway was represented by a mid blond young woman named Maria Haukaas Storeng. She came 4th with the song Hold On Be Strong. In the past six years things has happened. After three albums in English, Maria, who is now known by the last name Mittet, is ready with an album entirely in Norwegian – and with her new light blonde hair she looks like a Scandinavian Marilyn Monroe.

Maria Haukaas Mittet has titled the new album Heim, which translates to Home, and that is exaxctly what this is for her. She is coming home, back to who she is, both personal and professionel. About the release of the album, Maria says: "It has taken three years to finish the album and now it is finally here, smoking fresh. This album, Heim, represents me a little more than what I have released before. Something magical happens when you get to sing in Norwegian, not the least North-Norwegian. I feel I have opened up my heart a little more". 
The album contains 10 brand new songs all in Norwegian and is released by Sony BMG. It is a winter album with titles like Kom Sne (Come Snow) and Kjærlighetsvise I Mørketid (Lovesong in dark time). 
Tracklist:  
Æ Og Min Elskede
Kom Sne
Kjærlighetsvise I Mørketid
Det E Her Æ E Heime
Folk I Husan 
Himmel Imella Oss
Båtn´ Og Båra
Elinors Vise
Jorda
Te´ Øya Mi 
You might also like to read: 
Below you find links to purchase this album, just as you can refresh your memory of Maria's Eurovision entry from 2008 in the video.