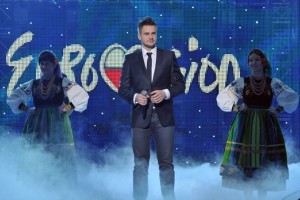 The first rehearsal for Poland came today, on 17th May. Their was the first in the schedule. The blue backstage lighted the scene and Marcin started singing.
The beginning of the song has been changed, now it is slower, more emotional. That is the final version of the song. Beside him, we saw the female singer singing the parts, so we can call that song partly duet. There are two girls dancing around the stage. And two of them as a backing vocals who were today dressed in a Polish national costume.
At the beginning of the performance, the female singer is kneeling in a front of the marcin, turned to the audience, and in one moment we can see all of them how they are throw away the apples. They were warned about not throwing them too hard as they were hitting computers where the audience will be.
The stage is blue, with blue spotlights and all around the stage are silver curtains. Also far away from we can see black background which is giving quite good effect. Marcin is singing pashionable and very positive on the stage. And the shadow is falling on his face.