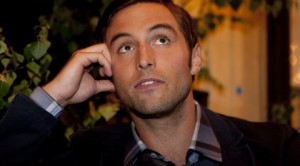 The immensely popular Swedish TV series Allsång På Skansen had a somewhat sombre air about it yesterday, following the bomb blast and massacre in neighbouring country Norway. The Swedish people have also been greatly affected by the tragedy and Måns Zelmerlöw seized the opportunity to talk about the event in yesterday's show.
The show was opened by honouring the victims of last week's atrocities, which moved the young presenter to tears: "I really would have liked to open the show just as cheerfully and upbeat as in previous shows, but it feels hard to do so at a time like this" the star said in the programme. He then dedicated the first song, Sträck Ut Din Hand (Reach Out Your Hand) to Sweden's westerly neighbours. Following the show, Måns told of how difficult it was to speak about the events during the show : "I was nervous, it's a sensitive issue but I really believe we had to talk about it. I hope that Allsång På Skansen was able to inspire hope and solidarity among our viewers".
Måns became visibly moved as he addressed the subject and during the rehearsals earlier on in the day the artist had been in tears. "The bomb attack itself was bad enough, but once the massacre on Utøya became known, well, it was almost too much to take in. My God. It's just too sick to comprehend". As most other Swedes, Måns was deeply affected by the tragic news: "I was incensed. The worst part of it is that it could happen anywhere in the world, even here in Sweden for that matter", Måns tells Swedish tabloid Expressen.
Former programme host and host of the Eurovision Song Contest 2000 Anders Lundin was also watching the show and complimented his colleague on his presentation skills: "He did a great job, it was a fantastic show. It was fantastic to see the performances". Måns was a tad nervous knowing that Anders was watching him on stage: "Of course I was on edge, Anders has done this for seven years, he knows the ropes".
The young star has had two huge hits in his native Sweden thanks to participation in Melodifestivalen; coming 3rd with Cara Mia in 2007 and 4th place in 2009 with Hope and Glory.