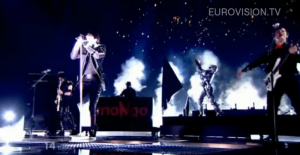 Ferman Akgül, the leadsinger of former Turkish representatives maNga, has given his fans a suprise. Ferman announced that he is working on a new project with Turkish broadcaster TRT in the form of a musical documentary. Cinema and directing have previously played a major part in Akgül's career.
Not many people were aware of the talents of the members in maNga till they've reached a spectacular position in European music industry that came out after winning 2009 MTV European Music Awards – Best Act and 2010 Eurovision Song Contest experience. About a year ago, maNga's leadsinger Ferman Akgül – in an interview – mentioned cinema and television experience as a lovely bonus.
In fact this story already was in Ferman's head, which was given to a Turkish newspaper last year, but was not taken serious at all afterwards. In the interview he also mentioned his milestones in cinema, directing videoclips of both maNga and some other local bands such as Sagopa Kajmer, Delta and official maNga documentary. In that interview, 32 years old Ferman, as a master student in Agean University – Comminucation Faculty, also expressed his feelings about hosting a musical documentary.
Not so long after that interview, in early September, Turkish broadcaster – TRT – uploaded a video of  Ferman to the corparation's official facebook account, entitled 'Ferman Akgül's suprise'. In the video, Ferman was in front of an amateur webcam and told his fans about his new project. Ferman said that he will host a programme, named Kulaktan Kulağa on TRT Müzik and he continued 'I have been working on this project for a while and finally i get the chance of making it true. The programme will be musical documentary.'
After a week the promotion video was released, again by the broadcaster, via their official fan-pages on other social networks. In the video, we were able to see the first impressions of the programme via behind the scene views. We also saw Ferman and his team interviewing some music experts.
As the promotion video shows, the preperations of the new programme have already started with the first episode of the programme expected to be aired in October. More information about the programme will be soon announced via official webpage of TRT Music (in Turkish). 
MaNga represented Turkey at the 2010 Eurovision Song Contest with the song We Could Be the Same and the group ended the contest with a respectable 2nd placing. Below you can watch their rehearsing performance in Telenor Arena: