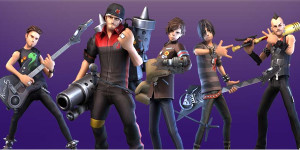 After releasing an interactive album, e-acoustic, former Turkish Eurovision representatives, maNga, are ready for another interactive story. The rock group will take part in a videogame called ZombieRock. In a stage of the game, there's a maNga zone and characters of the members of maNga will be found at the zone.
The famous Turkish group, maNga, also the runner-up of the 2010 Eurovision Song Contest, took another step up in the interactive stage. After releasing an interactive-made album, e-acoustic, they are now in a videogame called Zombie Rock.  The MMO action game has worldwide popularity and joygames foundation provides it via internet. In the game, there's a fight between human-beings and zombies and there is a stage called maNga zone and of course the cyber characters of the members are added to that level. The characters are armed with special costumes, guns and their music. 
By the time the game was released, maNga brought the real zombie activities to the real life; the group hold two activities called zombie walk and zombie night. In the zombie-walk activity, the group hold a street walk with the fans who make up their faces with special zombie effect and dresses, then the activity carried away to the dark of the night with the same make-ups and dresses.
maNga say via their fanpages that the offer of joygames foundation was the most exciting offer they received after 2010 Eurovision Song Contest. They are also claiming that everyone will be addicted to the game and the zombie activities will be spread to the real life more in the future.
The game can be played with facebook registration by visiting the official website and more content will be able to downloaded for free. Below you can watch the studio job and also official teaser of the game. You can also remember their participating entry, We Could Be the Same.