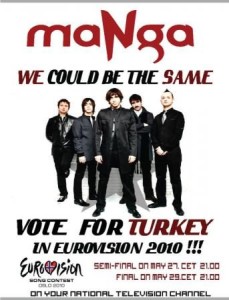 This year, Turkey will be represented by the rock group, MaNga. They will perform the song We Could Be the Same. Today, the new version of the song was released. The Turkish entry now rocks more than ever and seems to be ready for the Oslo challenge in May.
Belgian producer and musician, Hans Francken, was responsible for the rearrangement of We Could Be the Same. He changed the rhythm of the song and added more Turkish instruments. MaNga also wanted to have a more rock sound. The Turkish rock band, who won the 2009 MTV EMA Award for Best European Act, will not only appear on stage with a new version, they will also have new outfits. Turkish menswear brand Que will do the styling of MaNga. The band will be wearing the latest spring/summer collection of the hip and energetic brand.
MaNga is currently travelling through Switzerland, Germany and The Netherlands. On Saturday, they will also be one of the acts at Eurovision in Concert, the promo event in Amsterdam.
Turkey will perform last in the second semi-final on the 27th May 2010.
Here you can listen to the new version of We could be the same.
Links