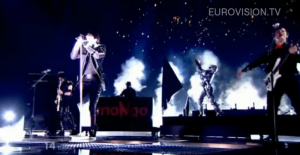 Turkish flash group MaNga, who recorded the highest placing for Turkey since 2003, has been nominated for the 2010 Music Awards for TRT. Another ex-representative, Mor ve Ötesi, and this year's Turkish participant, Yüksek Sadakat, will also compete against MaNga.
MaNga, who were placed 2nd at the Eurovision Song Contest in Oslo, also won the highest-rated MTV Music Award in Best European Act category in 2010. This time, it will be the very first competition for the group since the contest.
Another successful group, Mor ve Ötesi, who represented Turkey in 2008 in Belgrade, finishing 7th with their rock song Deli, has also been nominated for the awards in the Best Group of the Year category. This year's Turkish representative, Yüksek Sadakat, also takes part in this category.
The Group of the Year nominees are:
1.    Duman
2.    Gripin
3.    MaNga
4.    Mor ve Ötesi
5.    Yüksek Sadakat
MaNga's song, We Could Be the Same, will also take part in the Best Song of the Year Category in the awards. The song will compete against very famous names such as Tarkan and Emre Aydın, who also won the Best European Act at the MTV Music Awards in 2009. The full list of Best Song of the Year nominees are:
•    Acısa da Öldürmez – Sıla
•    We Could Be the Same – MaNga
•    Sevdanın Son Vuruşu – Tarkan
•    Hastalıkta Sağlıkta – Mustafa Ceceli
•    Bu Yağmurlar – Emre Aydın
The awards will be given after the combined decision of jury and SMS voting. You can also visit the official competition page of TRT Music Awards.
The jury also brings some famous ex-representatives together such as İzel Çeliköz who represented Turkey in 1992 with Can Uğurler and Reyhan Karaca with their song İki Dakika.