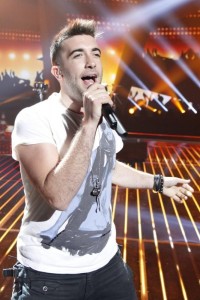 This year's Maltese representative is Kurt Calleja. It's the 25th attempt by Malta to win the contest, will the do it this year?
If you are participating in the Eurovision you might as well have a party. That seems to be what the Maltese delegation thought, because Kurt Calleja is indeed having a party on stage. He brought a band which consists of two guitar players, a drummer, a backing singer, and a DJ. Together they have the biggest party on stage seen so far at this year's Eurovision.
When Kurt sings the "EH EH EH" part of the song, they all have a special dance routine. I'm sure we going to see those dance moves a lot at Euroclub the next ten days. Anyway, the audience wants to dance when they see and hear this.
Midway through the song the DJ comes out as a break dancer, which underlines the atmosphere of party.
During the performance the back drop is orange with a lot of partying people in the back. It reminds you of going to a concert or a big discotheque – so even if you mute your TV, you'll get it. This song is all about having a party.
Near the end of the song Kurt tries to hit a high note. The question is, however, will he be able to make that note on the big night?