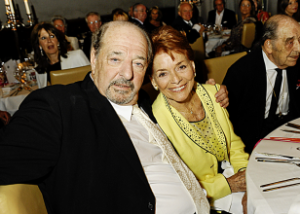 You've got to admire her chutzpah, Eurovision's first lady Lys Assia doesn't take defeat lying down. Not content with an eight place in the Swiss national final last year, the Grand Dame is apparently planning a return to the Eurovision stage for 2013.
Swiss news site Blick reports today on a story that probably made many choke on their coffee or check that it wasn't in fact April the 1st and some phoney news story. By all accounts, it looks as if 88 year old Lys Assia, one of Switzerland's only two winners, the very first winner of the Eurovision in 1956 with Refrain is planning a comeback. As we all recall, last year's attempt to gain the Swiss ticket to Baku ended in dissappointment for Ms Assia, with a lowly eight place for the Siegel penned C'était Ma Vie in a closely fought national final. Despite much media attention surrounding her participation, this alas failed to translate into results on the big night and so Assia had to see herself beaten by the Sinplus brothers.
Not one to be put off, the spritely singer is apparently as game as tuppence to take part in the Swiss finals once again, and is convinced that victory will be hers this time around. Ralph Siegel, her close friend and ally through many years has reportedly written an entry for Assia, with which she hopes to capture the hearts and votes of the Swiss voting public. Whereas her entry last year was dismissed by many as old hat and out of date, Assia is going all out this time around, enlisting the help of four young rappers from Bern, a move which she hopes will appeal to the youth segment of the audience watching.
Assia is reported to have said to Blick.ch about her song last year that it was far too slow and not enough power, but that she has total faith in this year's concoction – no less than a pop rap effort. Siegel is also reported to be thrilled with the result, stating that "We've got something huge on our hands here, I'm totally sold on the song!"
The presentation video will reportedly be shot in Zürich at the end of the week, and, if successfull, will go on to take part in the Swiss national final, Die Grosse Entscheidungsshow for the second consecutive year, this time on the 15th of December. Deadline for submissions is set for the 1st of October, so the two had better get their skates on. As the plot thickens, watch this space for further updates on the Swiss final.