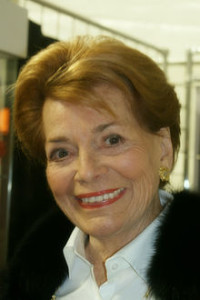 The very first winner of the 1956 Eurovision Song Contest Lys Assia has constantly been in the limelight in one way or another since her victory for Switzerland at the very first edition of Europe's favourite show. The veteran plans once again to defend the alpine nation.
Lys Assia has been active as a singer since 1942, and born in 1926 makes her an impressive 85 years old – just goes to show that you can never be to old to try your hand at Eurovision! The grand dame of the contest won the very first edition with Refrain and also attempted to defend her title in 1957 with L'Enfant Que J'étais and in 1958 with Giorgio. The versatile artist also went on to become something of a Eurovision icon, given her history with the contest and has often been observed as a guest at various finals around the continent both national and international.
Ms Assia apparently wants to make another go of representing Switzerland, and if successful, would make it her fourth time in representing the land of Toblerone and cuckoo clocks. Although the internal selection Die Grosse Entscheidungsshow is at a preliminary stage at the moment, the prospect is nevertheless quite exciting. The song which the contest veteran hopes to compete with is entitled C'était Ma Vie and is penned by none other than Jean Paul Cara, writer of the 1977 winner of Marie Myriam, L'Oiseau et L'enfant. The music is composed by none other than Ralph Siegel, who has no fewer than 19 Eurovision entries to his name, including the German 1982 winner Ein Bißchen Frieden and his last entry for Montenegro in 2009 with
Just Get Out of My Life.
Voting on the uploaded videos to Die Grosse Entscheidungsshow will start from mid October, and the deadline for submissions is set to the 30th of September. The grand final will take place on the 10th of December. You can listen to the song on the Schweizer Fernsehen's website.