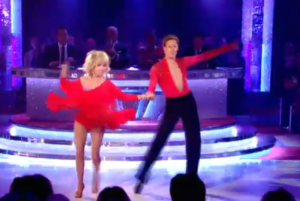 Saturday evening it was time for Lulu's fourth dance in the 9th season of the British Strictly Come Dancing. The 1969 Eurovision Song Contest winner had to improve if she wanted to stay much longer in the tough competition. With plenty of energy she was hoping to break a curse. 
So far two couples have left the programme; former member of the Parliament Edwina Currie and her dancing partner Vincent Simone and former tennis player Dan Lobb and his dancing partner Katya Virshilas. Lulu has not been recieving the highest points so far making her a likely candidate to soon leave as well unless she improves.
In tonights episode Lulu and her dancing partner Brendan Cole, who represented the United Kingdom at the first Eurovision Dance Contest in 1997, were to dance a samba. Lulu was looking forward to getting started: "I'm loving the samba. This week is gonna be a lot of fun". Brendan was impressed by her and accused of her messing with his mind as she made it all look so easy. He was however quite worried and had reason to be: Four times he had been kicked out of Strictly Come Dancing due to the samba. Lulu got a bit annoyed when she found out about this curse of his, but was quite determined to break it. She did not want to leave the programme just yet.
Lulu and Brendan's samba was danced to Stevie Wonder's Sir Duke and the also opened quite musically as they both were pretending to play trumpets. Lulu was dressed in a short latin dress in bright red and Brendan in black trousers and a red shirt matching Lulu's dress. Their dance was full of energy and Lulu showed that a woman never gets to old to lift her dress showing hips and underwear matching the dress! Half way through the dance they walked up the stairs to the balcony where their competitors were cheering for them. They quickly walked back and ended the dance on the floor.
The 4 judges were generally quite pleased with what they saw, although it could have been better:
– Craig Revel Horwood would have liked a little more content as he thought they wasted time by their run upstairs, but he had a reason for wanting to see more actual dance: "This dance did suit you and you did have a bit of bounce action going on. Finally something you appear rather better at". / 5 points.
– Len Goodman started out with the positive first: "I like the gusto and the enthusiasm of the whole affair and it got in the carnival spirit, which is samba", but then he continued: "For me it was a bit repetitious". As he had said the last thing the audience booed at him. / 6 points.
– Alesha Dixon thought samba was just the right thing for Lulu: "Samba suits you, full of beans and energy, good job. That's it!". / 7 points. 
– Bruno Tonioli was satisfied, but cryingly frustrated as he basically shouted at Lulu: "Bubbly! A couple of mistakes. Why do you do it?. Stop it Lulu, stop it". / 7 points.
With a total of 25 points Lulu and Brendan scored a position as a tied 8th place and seem safe from elimination, but the TV viewers do decide 50% and in Sunday's result show we will know if Lulu will be dancing again next week where it will be a "Strictly Halloween Special".