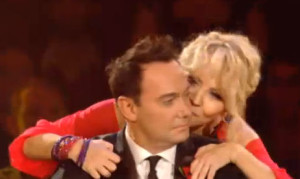 Lulu didn't have to wait long to strut her stuff on the latest instalment of the BBC1 dancing show. She was the first of the celebrities to dance in front of a slightly revised panel.
Head judge, Len Goodman, is on holiday this week, so his place on the panel was taken by American actress, Jennifer Grey, best known for her role in 80's film, Dirty Dancing. Lulu's task this week was to learn a Tango, danced to one of Prince's most famous songs, Kiss.
Partner Brendan Cole's choreography included starting from the balcony for the second successive week. Instead of flying down to the floor, Lulu was allowed to use the more conventional stair descent method of reaching the dance floor. Wearing a red top with purple culottes, her dancing drew cheers from the audience and it certainly looked like her best performance yet.
Guest judge, Jennifer, was the first to offer her opinion. "How gorgeous are you? That was phenomenal! We had little slip ups, but I couldn't help loving all of it." Alisha Dixon was also forgiving of Lulu's mistakes, "There is always a slip-up but you always manage to carry on."

Ever cheerful Italian Bruno Toliolli was slightly less full of praise, "He was dragging you around at the end." Promoted to Head Judge for the evening in Lens absence, Craig Revel-Horwood seemed in a better mood tonight. He balanced his "You were looking down an awful lot." Comment with "A lovely moment up on the bridge."
Looking even more glamorous than usual, co-host Tess Daly asked Brendan "She's coming on in leaps and bounds, your girl?" Brendan simply replied, "She's getting there." Lulu was very pleased with her performance, "It makes me wanna shout, Yeah, eah, eah, eah, eahhhh!"
When the scores came in, there was good and bad news. She scored 27, which was her highest score yet; however, it was only good enough for 8th place out of ten. Although astrologer Russell Grant finished bottom, his popularity with the public will probably see him lifted out of the bottom two, leaving Lulu in danger of her survival beginning in the hands of the judges on tomorrow's results show.