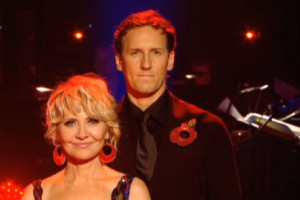 Despite achieving her highest score of the series, former Eurovision Song Contest winner, Lulu, was voted off Strictly Come Dancing this evening. Her fate hung in the balance from the moment she was third from bottom on the scoreboard after the judges had given their votes on the live show yesterday.
Lulu was the last of the celebrities to know if she was safe or not, and it was the duty of host, Tess Daly, to tell Lulu and professional partner, Brendan Cole, that they were in the bottom two. This was always a possibility despite not being in the bottom two after the judges' scores. The celebrity who finished last, astrologer Russell Grant, is very popular with the voting public and was always likely to win enough votes to lift him to safety when the judges scores and viewers votes had been added together. This was what happened, and Lulu took her place in the bottom two with Olympic Heavyweight Boxing Champion, Audley Harrison.
In previous weeks, it was the responsibility of the judges to decide who stayed and who left, but this week, it was the dancer finishing last who was eliminated. After the inevitable pause and drumroll, Tess delivered the bad news to Lulu, who took it well. She was allowed one more dance with Brendan and was joined by her fellow celebrities to say goodbye.