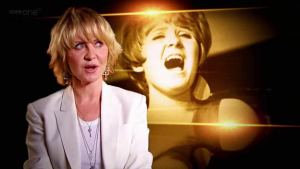 BBC launched their 9th series of Strictly Come Dancing Saturday evening. Among the non professionals who will be competing on dancing skills over the next few months is 1969 Eurovision Song Contest winner Lulu. Together with New Zealand dancing partner Brandan Cole she will try to beat, among others, Australian's '80's pop star Jason Donovan.
Lulu Kennedy-Cairns ended up one a tied first position in the 1969 Eurovision Song Contest together with Spain's Salomé, the Dutch Lenny Kuhr and France' Frida Boccara.
Schottish Lulu is also known for singing the title song to the James Bond film The Man With The Golden Gun and from another film song To Sir, With Love. She is now 62 years old, but still going strong as he is now ready to show in Strictly Come Dancing, in other countries known as Dancing With The Stars. It has so far spread to 32 countries.
In this first programme we saw the celebrities being paired up with the professionel dancers – and in Lulu's case it ended up being with Brendan Cole. Both Lulu and him appeared were quite pleased with this match. Brendan swang Lulu over her shoulders and carried her up the stairs. One of the judges said about these two that they are "more explosive as nitroglycerin" and later another one said about his expectations to Lulu and Brendan: "Maybe not on the dancefloor, but certainly backstage we might see some tiaraes and tantrums".
Brendan should have a pretty good feeling for what the judges want as he has been judging for three seasons in the New Zealand editition of the programme. 
Lulu and Brendan will be up against TV host Alex Jones, actor Anita Dobson, professionel boxer Audley Harrison, actor Chelsee Healey, former tennis player and current TV host Dan Lobb, former Member of Parliament Edwina Currie, musician Harry Judd, model, actor and singer Holly Valance, ex-girlfriend to Sven-Göran Eriksson Nancy Dell'Olio, former football player Robbie Savage, comedian Rory Bremner and the internationally well known actor and singer Jason Donovan.