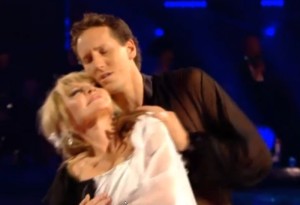 Last week, Eurovision winner, Lulu, won enough votes from the public on the BBC1 show, Strictly Come Dancing to stay out of the dance-off. Tonight, she hoped to do the same when she performed her third dance on tonight's show, which had a Broadway theme.
The programme started with a show dance by the professionals, which the celebrities joined in with at the end. Lulu was the sixth celebrity to dance, and this week, she had to get to grips with the Rumba while dancing to 'All I Ask of You' from Phantom of the Opera.
Before taking to the stage, a short film was shown of Lulu in training. She was clearly having problems learning the dance, becoming upset at what she described as her lack of elegance. However, when she started the dance, wearing a white and black ragged effect dress, all the hard work seemed to be paying off. At the end of the performance, her partner, Brendan Cole, was heard to say, "you did it, baby."
The four judges all seemed impressed with her. Former Strictly winner, Alisha Dixon, described it as "a great story and you told it beautifully." Bruno Tonioli was typically excitable when he praised Lulu, saying "you're so lyrical, so fluid. Very well done."
Craig Revel Horwood is always the hardest to please, but he was more critical of Brendan's choreography for including a lift, something which is against the rules of the Rumba. Head judge, Len Goodman, was less bothered by this. "Sometimes, you have to break the rules to make a routine complete. Every week, you get better and better."

Lulu herself was quite happy with how she had danced, "I felt like I was dancing with Patrick Swayze."
Each judge gave her a score out of ten, and together, they gave her a total of 26 points, which left her in tenth place out of 13. Tomorrow, she will learn if she is in the bottom two and facing a dance-off to stay in the competition.