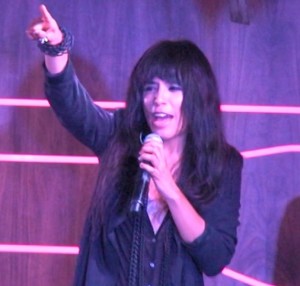 Loreen has made a brief visit to Madrid where she has managed to gather a large number of Spanish fans when she performed her 2012 winning song Euphoria. The biggest event was held in the 40 Café concert club. 
Loreen, the winner of the 2012 Eurovision Song Contest, was this Thursday in Madrid. She maintains a hectic tour schedule and only spent a few hours in the city but she found the time to visit one of the most popular television programs and, of course, to sign autographs and meet with her Spanish fans.
The event was sponsored by radio station Los 40 Principales in whose chart Loreen reached the number one a couple of weeks ago and just after her visit to Spain she is back to the top of the chart as the favorite song of the listeners again this week.
The response from the fans was overwhelmingly positive with hundreds of people waiting in line for hours regardless of the high temperatures that are being registered these days in the capital city of Spain. All to have the opportunity to see, hear and be photographed with their favourite Swedish pop singer.
And Loreen did not disappoint anyone. The show started at 7:30 pm when one of the most popular radio hosts introduced her to the audience. Then, she appeared on the stage of 40 Café dressed all in black. The fans went wild with her presence and she gave her best performance of Euphoria. Her voice was pure and solid and she displayed an amount of confidence that you do not always see when someone is performing live. This was the only song she sang and obviously most of the audience was left wanting more but she got the recognition she deserves.
She seemed very excited and she was very grateful and friendly both on stage and after her performance when she spent several minutes to talk and take pictures with the audience.