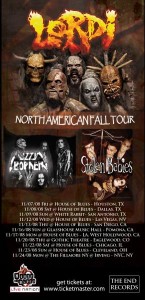 The 2006 Eurovision Song Contest winners Lordi have started their North American Fall Tour that brings them to six states. The Finnish monster band is putting a lot of effort into making it in the states with the new album, a video competition only for American fans and this tour.
The first performance for Lordi on this North American tour was on Friday in Houston, Texas. Tonight they are playing in Las Vegas, Nevada and after visits in Californian, Colorado, Illinois and Ohio they will end their tour in New York on Monday the 24th of November.
Lordi's North American Fall Tour:
7th of November: Houston, Texas (House Of Blues)
8th of November: Dallas, Texas (House Of Blues)
9th of November: San Antonio, Texas (White Rabbit)
12th of November: Las Vegas, Nevada (House Of Blues)
13th of November: San Diego, California (House Of Blues)
16th of November: Pomona, California
17th of November: LA, West Hollywood, California (House Of Blues)
20th of November: Eaglewood, Colorado
22nd of November: Chicago, Illinois (House Of Blues)
23rd of November: Cleveland, Ohio (House Of Blues)
24th of November:  Irving, NYC, New York  (The Fillmore NY)
This tour is a part of Lordi's effort into making it on the American market. Their new CD Deadache was released a short while ago and at the same time they opened a competition among their American fans to make the best monster video to the single Bite It Like A Bulldog.