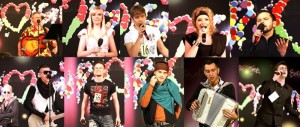 The Belarusian broadcaster, BTRC, has presented the songs competing in its national final. Out of all the candidatures submitted only the best ten managed to reach the final of this year's EuroFest and just one of them will have the chance to represent Belarus at the 2013 Eurovision Song Contest.
Belarus could be the first country to choose its representative and song for the 2013 Eurovision Song Contest. The TV viewers and a professional jury will select the best act in the final that will be held on Friday the 7th of December and this lucky one will fly the Belarusian flag in Sweden.
Ten interesting entries of different musical genres will be competing for the ticket to represent Belarus in Malmö. The names of the ten finalist acts that will battle it out at the final of the Eurofest have now been presented and they are:
Max Lawrence – I love your charming eyes
Alena Lanskaya – Rhythm in love
Alexei Gross – One way love
Daria – Catch me again
Nuteki Band – Save me
Satsura – Get out of my way
Uzari – Secret
Яnkey – Letter to mother
Vitaly Voronko – I wonder how you
Beaver Band – Incredible girl
Among the participants we find Alena Lanskaya who, despite winning last year's edition of Eurofest got disqualified later and failed to represent her country at the Eurovision Song Contest being replaced by Litesound.
The songs can be listened to on the broadcaster's website.
Below you can watch our 3D video of Litesound performing We Are The Heroes at the 2012 Eurovision Song Contest. As always, we strongly recommend watching this video in 3D to enjoy it to its fullest, but if you do not have a pair of suitable glasses this can easily be turned off in the player below to watch in regular 2D.