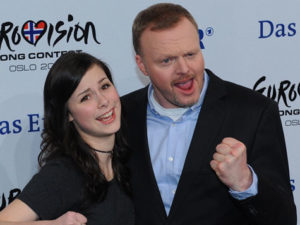 Stefan Raab gave an interview to journalists from the German newspaper 'Spiegel'. Raab was Lena Meyer-Landrut's mentor. The German TV entertainer prepared Lena in the months before the Eurovision Song Contest. Raab is very proud of his protégé and asked her to defend her title next year.
Stefan Raab was extremely happy with Germany's victory: 'Lena won, Germany won, Europe won. The whole week I thought there was a chance we could win the contest, but in the end there were doubts because the level of the songs was so high. I think we won the contest just because of Lena. I think she would have won with every possible song.'
Raab's job isn't finished, he says: 'It could become even more beautiful. I think Lena has to defend her title next year. She has to enter the German selections again. The people will definitely support her, it's going to be crazy!'. During the celebrations in Hannover Raab already asked Lena if she would participate again next year. The German star said she would love to compete again. Only in 1957 and 1958 Eurovision Song Contest winners performed the year afterwards in their own country, however with disappointing results.