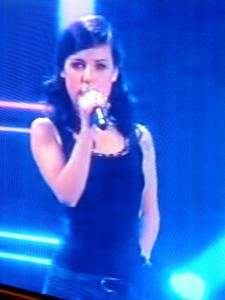 German Eurovision Song Contest winner Lena can now celebrate her second week as number one on the Swedish single chart where 7 of her competitors in Oslo also are present. The songs from the recent held contest are also extremely popular as ringtones.
A total of 8 songs from the 2010 Eurovision Song Contest are to be found on the Swedish single top60 together with the interval act and a couple of songs from the Swedish national selection, Melodifestivalen. Lena is for the second week in a row on top of the list where the interval act from Madcon is new at #17. Anna Bergendahl has been there ever since the Swedish selection making it a total of 15 weeks. She is this week's #28 with Romanian Paula and Ovi right after as #29. Chanée & N'evergreen representing Denmark with the Swedish written song In A Moment Like This is #30 and followed by the Moldovan entry Run Away. Jessy Matador from France is #34 while Belgian Tom Dice is #35 with his entry Me and My Guitar. The Turkish band maNga is #44 after having dropped 15 places compared to last week. Safura has dropped a total of 18 places and her entry Drip Drop is now #58.
Anna Bergendahl's album Yours Sincerely is to be found at #16 on the album top60 where it has now been for a total of eight weeks. The Ark who represented Sweden at the 2007 Eurovision Song Contest has a new album out. It is titled In Full Regalia and is currently #25 with seven weeks on the list.  The official album with all 39 participating songs is not on the list like it for example is in neighbour country Denmark.
 
On the ringtones top20 Lena's Satellite is also first. Didrik Solli-Tangen, who represented Norway, is new at #6 with his entry, My Heart Is yours. The Swedish entry This Is My Life is #8 followed by the Danish entry In A Moment Like This as #9 with two weeks on the list. New is OPA and Drip Drop. The Greek Eurovision Song Contest entry went in as number 15 and the Azerbaijani one as #18.