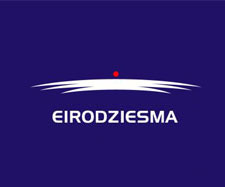 State broadcaster Latvijas Televīzija has kicked off its Eirodziesma season for 2011 by revealing some details surrounding their selection process for next year's entry to represent Latvia at the Eurovision Song Contest.
Whereas other countries have given potential entrants a significant amount of time in which to submit their applications, LTV have decided to go against the flow and keep things short and sweet, giving prospective entrants a mere 3 weeks in which to register, with the deadline on the 6th. December. The contest will be a joint production between LTV, the city of Ventspils and Ventspils Development Agency.
Rules published by LTV regarding participation clearly state that simultaneous participation in other countries' national finals is strictly prohibited. An expert panel will have the tough decision to select the final 20 songs that will go on to compete in next year's Eirodziesma, which will be performed in two semi final rounds taking place on the 5th and 12th February. New to the Latvian format this year sees the introduction of a second chance round on the 19th, where 2 of the eliminated 10 entries will be given another shot at making it to the final. The process will culminate in a grand final being broadcast from Ventspils Theatre House on the 26th February. Both viewers and an expert jury will have a 50% share of the vote, deciding which three entries proceed to a superfinal. The same voting procedure will be repeated in the superfinal, determining the winning entry to represent Latvia in 2011.
In my view
Latvia has had a hard time of things at the Eurovision Song Contest lately. They haven't managed to qualify to a final since 2008, when Wolves of the Sea by the Pirates of the Sea only managed a 12th position. Inters Bustles and Aisha only managed to reach 19th and 17th positions in their semi finals respectively, thus failing to advance to their finals. Hopefully next year will bring an upturn in Latvia's fortunes at the contest.

The opinion expressed in "In my view" are those of the author and are not necessarily the one of EuroVisionary.com.