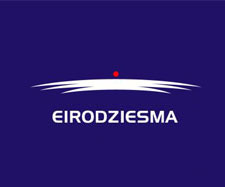 Latvian state broadcaster LTV has recently revealed the 20 acts who have succeeded in making the grade in passing through the preliminary selection round. The jury responsible had quite a task in separating the wheat from the chaff, whittling down 71 entries to just 20.
As mentioned previously, LTV have enforced restrictions whereby songs solely composed by Latvian nationals were eligible for submission and in their press conference, they elaborated on the decision, stating that it was a conscious effort on their part to promote Latvian culture. How they intend to promote Latvian culture remains to be seen however, as not a single chosen entry is to be performed in Latvian, judging by the title list. The songs and artists to have qualified are as follows:
Juris Ludženieks – Beautiful World
Elīna Krastiņa-Grence – Look Back At Me Again
Oksana Ļepska – Live On!
Lauris Reiniks – Banjo Laura
Triānas parks – Upside Down
Dace Upīte – Magnet
Crazy Dolls – Positively Thinking
Musiqq – Angel In Disguise
Ģirts Zebuliņš & Atis Zviedris (Flame) – Rough Enough
Kaspars Tīmanis & Labvēlīgais tips – Daylight
Emīls Balceris – Let Me Be
Ivo Grīsniņš-Grīslis – Cinderella
Dace Upīte & Nikolajs Puzikovs – It's Not Easy
Candy – Love Is Like An Aeroplane
Evija Sloka – Don't Stop The Dance
Ineta Rudzīte & Uldis Timma – Walking On My Tiptoes
The Secretz – Summer Night
Pieneņu vīns – You Are
Jānis Stībelis – Let It Be Me
Blitze – Hop
Avid Eurovision fans will be quick to notice that Lauris Reiniks is making another attempt to represent Latvia at next year's contest. He succeeded in 2003 as part of Latvian supergroup F.L.Y. and Hello From Mars. Kārlis Būmeisters is also making a surprise return as composer of Magnet sung by Dace Upīte. He was one half of the very successful duo Walters & Kazha, who managed a 5th placing for Latvia in the 2005 contest with The War Is Not Over. Otherwise, judging by the artist profiles (in Latvian only), many various musical genres appear to be present in next year's Eirodziesma.
As mentioned in our earlier report, these entries will be divided into groups of 10, who will each battle it out in two semi finals, to be held on the 5th and 12th February. There will also be a "second chance" round, to be held on the 19th February, where the 10 songs that haven't qualified for the final will be given another bite at the cherry. From these entries, one will be selected through televoting, the other by a jury and will advance to the grand final to be broadcast from Ventspils on the 26th February.
Links