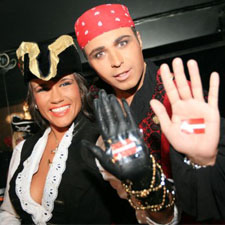 The Latvians haven't had the easiest ride in Eurovision over the last few years, their last good result was thanks to Walters & Kazha back in 2005.  Now they have seen Estonia's and Ireland's entries and decided to follow suit. 
It was always going to be between Andris Erglis and the Pirates of thesea but few would have put money on Aisha to reach the Super final.  She only managed to come fourth in the televote from here semifinal, and was saved by the jury.
It is in no doubt that Pirates of the sea will meet with as much, if not more, criticism than Kreisiradio and Dustin have.  There were several good ballad on show tonight, but with only one making it through to the super final it is clear that the Latvian didn't want to go down the Ballad route again.
SUPER FINAL RESULTS
Pirates of the sea, Wolves of the sea – 29,228 votes
Aisha, You really got me going – 22,721 votes
Andris Ērglis, Broken lullaby – 21,589 votes 
Pirates of the sea will perfom 'Wolves of the sea' in the second semifinal of the 2008 Eurovision Song Contest on May 22nd in Belgrade.
http://ie.youtube.com/watch?v=g7bsX7iCqmE
In my view
This may be one joke entry too far and is nowhere near as funny as Dustin.

The opinion expressed in "In my view" are those of the author and are not necessarily the one of EuroVisionary.com.