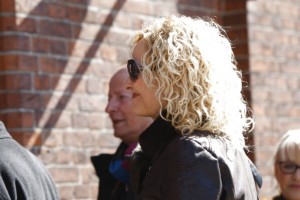 Today friends and family were able to say a last goodbye to the triple Eurovision participant John Hatting who passed away only 64 years old. After his death stories about a man for whom life wasn't easy has been told and even the plan for his funeral turned out to be complicated.
It came as a shock to most when John Hatting passed away only 64 years old – but even more a shock has it been to see the planning of his funeral turned into a public fight. Since his death friends and family have used the press to tell the story of a man who had difficulties in life – and to let out their frustrations about the funeral.
We got to hear how John Hatting's marriage to a woman from Thailand was everything else than happy. A few years ago she had a child with another man. John forgave her and they tried to continue their marriage, but when she then two years later once again got pregnant by the same man, he wasn't as naive and the couple split up. When he passed away they were separated, but the divorce not yet finalised. This meant that she was still legally the one to decide over his funeral and to inherit him.
Friends and family knew John Hatting's wishes about the urn being buried in the Unknown Grave at Sundby graveyard, which several of his family members also are. According to his family then the separated wife from Thailand however first didn't want to follow this – and furthermore then she didn't want to include John's family in the matter.
They however managed to settle their disagreements as today John was cremated and the urn will be placed in the Unknown Grave as he wanted it. Family and friends said their last goodbye to him from Sundby Church, the same church where he got married to Lise Haavik, with who he performed together with in the duo Trax. 
John and Lise won the Danish final, Dansk Melodi Grand Prix, in 1986 and ended 6th at the Eurovision Song Contest with the song Du Er Fuld Af Løgn. In 1982 John also participated as a part of Brixx and in 1990 he wrote Hallo Hallo to Lonnie Devantier. Besides those three Eurovision participations he also took part in the national final several times without winning, both together with Lise and also solo.
EuroVisionary express our condolences to family and friends of John Hatting. 
You might also like to read: