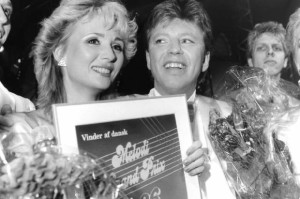 Today the Danes woke up to the news about their former Eurovision Song Contest participant John Hatting having passed away, only 64 years old. John represented Denmark in 1982 and 1986, and again in 1990 as a composer. Besides that, he also took part in the national final three more times.
John Hatting was a part of the group Brixx, which represented Denmark at the Eurovision Song Contest in 1982 with the song Video Video, a song that over the years have proved itself to be a classic in Denmark. After that John decided to go his own ways. In 1984 his Norwegian born wife, Lise Haavik and him got together in the duo Trax. They sang the song Vi Hører Sammen in the Danish final, Dansk Melodi Grand Prix and John himself also participated solo singing Donna Donna. 
In 1985 Trax came third with the song Ved Du Hva Du Sku and the year after, in 1986, they finally won performing Du Er Fuld Af Løgn, another classic. The marriage didn't last and John continued working as a songwriter and producer. In 1990 he made it to the Eurovision Song Contest once again with the song Hallo Hallo, which was performed by Lonnie Devantier. 
A good friend of John Hatting, Kim Schwarts, who participated in the Danish final himself in 2005, writes on his Facebook profile about the death of John Hatting: "Many many great moments have we had together, with the love to music which combined us and we also got to write some songs together. Thanks for what you taught me, my friend and rest in peace. We will miss you. Unbelivable that it is only two days ago we celebrated my birthday together and now you are gone".
A few years ago Denmark's 1980 participant Flemming Bamse Jørgensen also passed away at an early age, only 63 years old and just a year ago their 1991 participant Anders Frandsen died just 51 years old.
Below you can see videos of Video Video and Du Er Fuld Af Løgn.