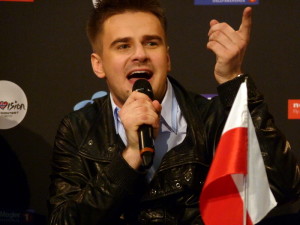 Poland will select its entry on Monday night. There are ten songs competing to succeed last year's Polish representative, Marcin Mroziński, and to give Poland its first win. EuroVisionary gives you an insight into the hopeful singers and groups.
Poland will participate in the first semi-final of the Eurovision Song Contest 2011 and will select its entry through a televised national final, Krajowe Eleminacije 2011. The show is organised by TVP, the national broadcaster of Poland. The winner will be chosen by 100% televoting.
1) Magdalena Tul – Jestem
Magdalena Tul has shown her talents in many aspects of art. She has been on the stages of well known Polish and foreign theatres, was a soloist of the show, Guess the Melody, and even voiced cartoons. In 2001, she started performing under the pseudonym of Lady Tullo, but soon returned to her birth name. In 2005, Magda took part in the Polish preselection for the Eurovision Song Contest and finished with an impressive second place. This year, she is fighting for the right to represent Poland at the biggest music contest in Europe once again. Who knows, maybe this time she'll do it, because her song, Jestem is considered as one of the favourites.
2) SheMoans – Supergirl
SheMoans is a group that consists of five cool girls: Eva, Martha, Kate, Jane and Agnes. They are all professional musicians. Despite the young age of participants, they have already worked with such Polish stars like Maryla Rodowicz, Kayah and Krystyna Prońko. A distinctive feature of this group is specially designed original costumes and bright makeup. Their single, Supergirl, has become the leader in the hit parade of the Polish edition of Top Model and will fight for the right to represent Poland at the Eurovision Song Contest in Germany.
3) Ada Fijał – Hot Like Fire
Ada Fijał is a very popular actress and singer in Poland. She has been repeatedly recognised as one of the most fashionable Polish celebrities. She played on such TV series like M jak miłość, Czas honoru, Na dobre i na złe and Na Wspólnej. In the theatre, she made her debut with the play, The Majority of Suicides Happen on Sundays, where she performed the role of Clara. Ada performs not only contemporary music, but also hits of the twentieth century. She is currently working on a solo album and preparing for the selection where she will perform the song Hot Like Fire.
4) Alizma – Bow to the Bow
Alizma is a group that consists of pretty sisters who are actually triplets. These girls not only sing well, but also play the violin. They have already won the hearts of American viewers on the show America's Got Talent, we'll see if they can win the Polish hearts with the song Bow to the Bow.
5) IKA – Say
IKA has loved music since her childhood, thanks to her parents, Ada and Wojciech, who were members of the group Niebiesko – Czarni. On the stage, IKA turns into a panther, and she can hypnotise the audience with her temperament. She cooperates with the bassist, Szu and drummer Hubert, who is her husband. At the national final she will sing the song Say.
6) Roan – Maybe
Roan can boast of many foreign tours. The musicians of this group played in China, USA, South Korea, the Netherlands, France and Italy. Will the song Maybe add Germany to this list? We'll see.
7) Anna Gogola – Ktoś taki jak ty
Anna Gogola became known after the second season of popular show, Poland Has the Talent. Her idols are such rock stars like Aerosmith, Bonnie Tyler, Led Zeppelin and Deep Purple. In the near future, Anna is planning to release a new album….. and to win the Eurovision Song Contest 2011 with song Ktoś taki jak ty.
8) The Trash – Things Go Belter with Rock
The Trash is a band consisting of four musicians – R. Von Zander (vocals), Di Marco (bass), Big Sebowski (guitar), Marc La France (drums). All of them are Polish by nationality, but they live in various European countries. They met in India, where the band was formed, and now they want to conquer Europe.
9) ZoSia – Scream Out Louder
ZoSia lived for some time in Denmark, but then again returned to Poland to become a singer. In 2007 she released her debut album, and tomorrow she will fight for the right to represent Poland at Eurovision with song Scream Out Louder.
10) Formuła RC – Ja, Ty i Ty i Ja
Formuła PC is a project of t Robert Chojnacki, who wrote the song, which represented Poland at the Eurovision 2001. He plays the saxophone, flute and clarinet, and his first album received platinum status in Poland. His band will perform Ja, Ty i Ty i Ja tomorrow night.