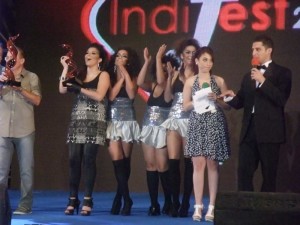 Many artists that have previously taken part in the Malta Eurosong selections participated in the 2010 Konkors Kanzunetta Indipendenza (KKI) contest on 19 September 2010.  Amber Bondin took first prize with the song Trid Tapprezza.
The KKI contest is a very important festival in Malta takes places around Independence Day every September.  All of the songs have to be performed in the Maltese language.  Many former Malta Eurosong artists took part this year including Dorothy Bezzina, Romina Mamo, Neville Refalo and Audrey Marie Bartolo.  Some former Malta Junior Eurosong artists took part too including Dario Bezzina, Domenique Azzopardi and Ishmael Grech.
The winning song came from popular up and coming singer, Amber Bondin, with Trid Tapprezza.  Runner up was Gloriana Arpa Belli with the song Fil-Muzika.  Gloriana recently won the Universong Contest in Tenerife and is the daughter of Helen Micallef (Helen & Joseph) who sang for Malta at the Eurovision Song Contest in 1972.  Third prize was taken by Romina Mamo who previously participated in the Malta Song For Europe in 2003 and 2005.
Domenique Azzopardi, who recently sang in the Malta Junior Eurosong, was awarded the Best New Talent.
There were many other acts performing through the week to celebrate the Independence festival including Thea Garrett (Malta 2010). EuroVisionary was able to witness Thea Saliba (Malta JESC 2005) perform her 2 recent hits On The Dancefloor and I'm Your Fan and also see Lyndsay Pace and Donna Marie Ellul perform 2 songs each as part of the celebrations.
Surely many of these acts will participate in future Malta Eurosongs and possibly the Eurovision Song Contest itself.