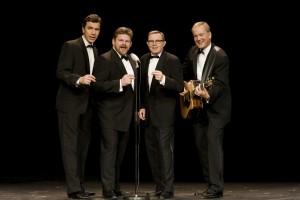 A theatre concert about Four Jacks, a
Danish version of Mills Bothers, will premiere today. Among the four
members are two times Danish finalist Stig Rossen and Mr. Dansk
Melodi Grand Prix, Keld Heick.
The original Four Jacks started in Denmark in 1956 and featured Otto Brandenburg, known from both Danish and Swedish finals. He was later replaced with James Rasmussen when his solo career really kicked off. The band featured big success up until 1963 when too much alcohol and different goals destroyed it.
For the "new Four Jacks" a lot of their acting must be based on various video clips as only one of them was even born. Keld Heick was 10 years old at that time while Stig Rossen with his 45 years was born as the group split up. They will be performing together with Jesper Lohman and Jesper Asholt, both 47 years old.
Stig Rossen is one of Denmark's best international musical stars, has featured big success all over the world and participated in the Danish final twice. In 1988 he came 4th with Vi danser rock og rul and last year he came third with Så nær som nu.
Keld Heick has been awarded the nickname Mr. Dansk Melodi Grand Prix after having participated in the Danish finals so many times that no one can really count it. He is both a singer, mainly together with his wife Hilda, and a songwriter. Since Denmark rejoined the Eurovision Song Contest in 1978 he has co-written 8 of the Danish entries, the last one being Kun med dig in 1996. In the '80's him and Søren Bundgaard worked together on Hot Eyes' three entries just as he worked together with Tommy Seebach and Birthe Kjær.