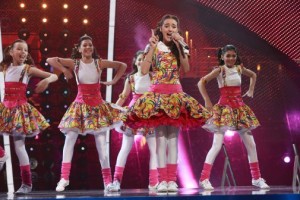 All 14 participants of the 2010 Junior Eurovision Song Contest have been rehearsing for Saturday night's big show.  The rehearsals have been going very well.  EuroVisionary has arrived in Minsk and the first act we viewed was Malta.
Nicole Azzopardi and her backing singers and dancers gave a great performance of Knock Knock!..Boom! Boom! at their 2nd rehearsal.  Nicole was very confident and is proving really popular in Minsk with the other competitors and fans.
Nicole was joined on stage by 5 girl dancers and vocalists.  Nicole and the girls were wearing red and white dresses.
The camera man commented on how good Nicole was to work with and the way she looks at the cameras.  Her vocals were very good too.
The song is very catchy and should prove popular with viewers.