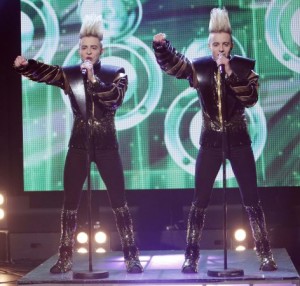 How close is Jedward to the waterline? We can check it out by their rehearsal today.
Jedward were in sparkly blue outfits with 2 girls and 2 boys singing in the background. They started rehearsal singing without the music and as the music started there were blue lights and currents of water in the background.The background was full of water it made such feeling that in couple of minutes the water would cover us.
The outfits suited the background water as well. In some minutes their voices weren't very clear but they managed to adjust them for the final rehearsal.
They had funny hairstyles and blue outfits. They perfomed well as all their moves were synchronized. One guy was jumping around the fountain, even break dancing on the stage.
The total impression of their perfomance was interesting as they differ from other participants by fountain on the stage and by their total perfomance.