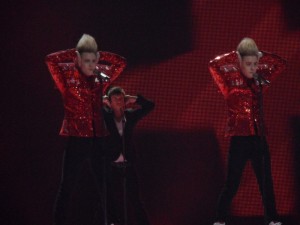 According to MTV it is officially confirmed that Jedward will participate again at next year's Eurovision Song Contest – once again representing Ireland. They are promising to come with a better song that their entry in Düsseldorf, Lipstick. 
Jedward consist of the two twin boys John and Edward. At this year's Eurovison Song Contest they finishing 8 with the song Lipstick. Lately they participated at the UK Celebrity Big Brother were they surpringsingly only came third.
To MTV John says: "Guess what? We have exclusive news for MTV.co.uk. We're gonna be doing Eurovision 2012. It's totally awesome." and continues: "We did Eurovision 2011 and since we did that we're known all across Europe and all across the world. And next year its gonna be even bigger and better because we're in all these teen magazines, and we go all over Europe."
Edward adds: "We're getting a better song than Lipstick so the UK better watch out, because Jedward's coming to get them again next year!"
They add that their next entry will be written by Louis Walsh, Irish manager who know Jedward from the British X-factor where he is a judge. He has several songs lined up they can choose between.  
The 2012 Eurovision Song Contest will take place in Azerbaijan's capital, Baku.