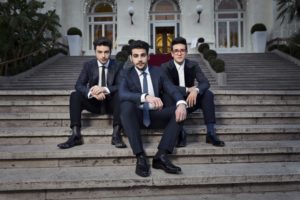 The state broadcaster in Italy RAI, today issued an official statement that the band Il Volo will represent the country in this year's Eurovision Song Contest in Vienna with the song Grande Amore, which was the winning song at the 65th Festival of San Remo, last Saturday.
The youthful trio Il Volo consists of the tenors Piero Barone, Ignazio Boschetto and Gianluca Gianluca Ginoble, who serve the genre of pop opera. They became widely known to the Italian public in 2009 through the singing competition show "Ti lascio una canzone", held in Teatron Ariston, the venue of the historic annual festival of San Remo, the same venue where they won last Saturday. Since then, Il Volo have managed to turn the attention of mass media and the public on them not only in Italy but also in several other countries in Europe and outside, such as Russia, Spain, China, the United States, South America, etc.
However, the reputation of Il Volo has risen up after their victory in this year's Festival of San Remo, both in Italy and abroad: in record time, only 7 days after the video was released on the Internet, the video clip of the song Grande Amore has approached the spectacular number of 5.7 million views on YouTube. It is also worth noting that, currently, Italy is top favourite with several bookmakers to win this year's Eurovision Song Contest. It remains to be seen whether in the coming weeks Grande Amore will evolve into an "absolute favourite" to win!
Italy is a country that belongs to the so-called Big-5, directly placed in the grand final of Eurovision on May 23.
Below you can watch the Italian entry at the 60th Eurovision Song Contest: