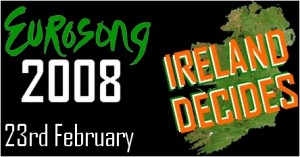 Well not quite Tipperary but Limerick, its near enough.  In an effort to cover Eurovision news in every country as closely as possible we are going to Limerick today to cover the Irish national final, Eurosong 2008, LIVE! 
EuroVisionary will be in Limerick to cover the rehearsals and all other goings on.  If you would like to get us to ask your favourite candidate a question just leave a comment on this article, we'll do our best to ask your questions.  The site will be continuously updated with photos and article throughout the whole day.
The rumours of Marija Serifovic being a panelist are yet to be confirmed but rest assured we will bring you an interview with the 2007 winner if she is.
In my view
This is going to be a really exciting day, stay with EuroVisionary for the latest stories!

The opinion expressed in "In my view" are those of the author and are not necessarily the one of EuroVisionary.com.